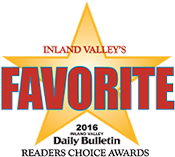 Full Service
Multi-Specialty Dental Practice in Rancho Cucamonga, CA
Here at California Dental Care and Orthodontics, we are proud to offer our neighbors in Rancho Cucamonga and the surrounding areas over 20 years of experience in complete dental care services for the whole family. With six specialties all under one roof — from Pediatrics to Orthodontics and Implants or Oral Surgery — our team of dental professionals and specialists provide general and cosmetic dentistry with compassion, understanding, and a personalized approach.
Our patients are our most valuable asset and we work hard to make sure you have the best care possible. Our caring staff and dentists in Rancho Cucamonga listen to your needs and desires and design a treatment plan to exceed your expectations, starting with education on procedures, treatments, products, and more, so you can make informed decisions regarding your oral health.
Rancho Cucamonga Orthodontics & More
We believe in building long lasting relationships with our patients by creating value in our services, and working to change the uneasiness and anxiety surrounding going to the dentist. By offering extended dental services in-house through multiple specialist, California Dental Care and Orthodontics is able to handle any dental procedure, so patients do not have to stress over finding a specialist they can trust.
The smile, a universal gesture of joy and happiness, is one of the first things people notice about others. Keeping your smile healthy is important for so many aspects of life, not just first impressions, but also for overall health, self-confidence, and quality of life.
For over 20 years our dentists and team have helped our patients in Rancho Cucamonga maintain or achieve the beautiful smile they always wanted. To learn more about our services, or specialists, or to schedule an appointment, please contact our friendly and caring staff today at (909) 945-0024.